Products Catalogue
HOT SALE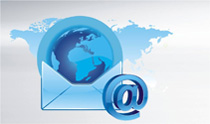 Email: carla@hnyearmega.com

Tel: +86 15093305912

Skype: zzhrsdcarlar

WhatsApp & WeChat: +86 15093305912
Dry Type Fish Feed Extruder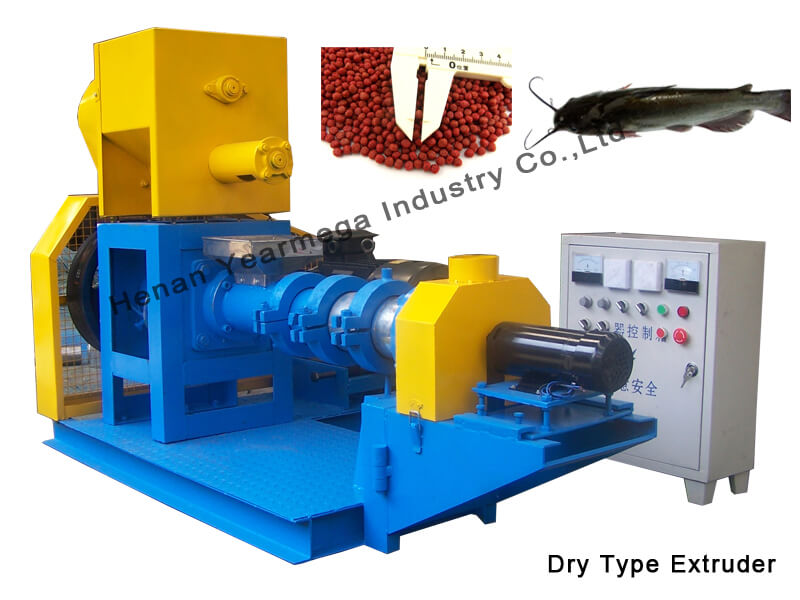 Dry Type Fish Feed Extruder Machine
Model : Single screw extruder
Power : 11-132 kw
Capacity : 60-2000 kg/h
Pellet Size : 0.9-15 mm
Application : precious fish, aquarium fish, crevalle fish, shrimps, pet food
We're here to help: Easy ways to get the answers you need.
SEND INQUIRY
Description

Dry Type Fish Feed Extruder Machine Introduction

Dry type fish feed extruder, also called fish feed pellet machine, is widely used for processing various materials into high-grade aquatic feed pellets for fish, catfish, shrimp, crab, lobsters, etc. Our fish feed machine can produce floating fish and sinking fish feed. Moreover, you can change extrusion degree to influence floating time. Without requiring steam boiler and with advanced single screw extruder, it is a primary choice of small and medium size feed processing plants and aqua farms.

Dry Type Fish Feed Machine Spotlights

1. Meeting high quality need. The feed pellet produced by our machines are suitable for precious fish, aquarium fish, crevalle fish, shrimps, pet food, etc.
2. 0.9-15 mm size range. Different models can be chosen to make different size pellets according to your need.
3. High temperature and high pressure. During extruding process, the salmonellosis and bacterial infections can be killed, ensuring better digestibility.
4. Auto-temperature control system. Visual temperature controlling makes the parameter more precise.
5. Low investment. Without requiring steam boiler, its overall cost is lower. Besides, it is of less land occupation and easy to operate.
6. Multi-function. It can produce both floating and sinking fish feed pellet.
7. We also provide you the special usable aquatic feed formulations.


Working Principle of Dry Type Fish Feed Pellet Machine

The fish feed extruder is composed of feeding system, extruding system, cutting system and
controlling system.

The specific process is: preheating(heating band of fish feed extruder)→ripening(with high
temperature and pressure) →pellet making(die mould) →cutting (by high-speed cutter).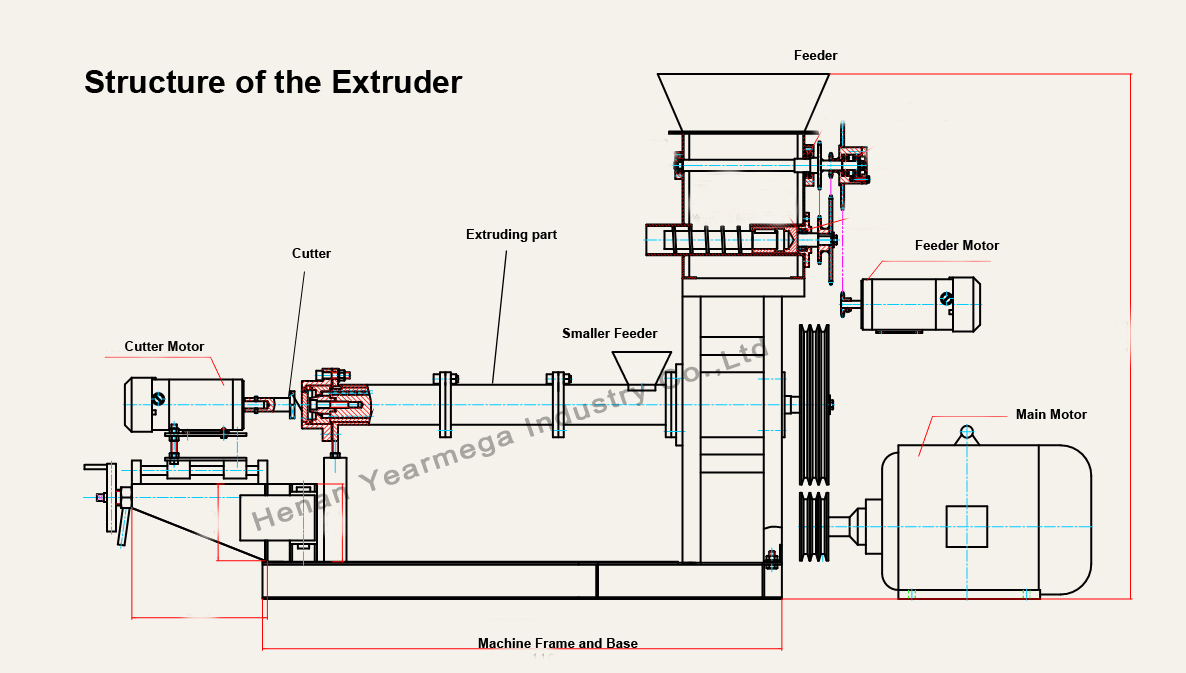 Working Video of Dry Type Feed Pellet Machine
Parameters of Dry Type Floating Fish Feed Machine
Model
Capacity
(kg/h)
Main
Power
(kw)
Feeder
power
(kw)
Cuter
power
(kw)
Diameter
of screw
(mm)
DGP50

60-80

11

0.4

0.4

50

DGP60

100-150

15

0.4

0.4

60

DGP70

180-200

18.5

0.4

0.6

70

DGP80

300-350

22

0.6

0.6

80

DGP90

400-450

37

1.1

1.5

90

DGP120

500-700

55

1.1

2.2

120

DGP135

800-1000

75

1.1

2.2

135

DGP160

1000-1500

90

1.1

2.2

160

DGP200

1800-2000

132

2.2

4.0

200



Leave a message: Please fill in your information and we will contact you soon.