Products Catalogue
HOT SALE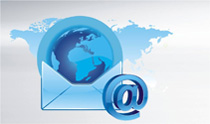 Email: carla@hnyearmega.com

Tel: +86 15093305912

Skype: zzhrsdcarlar

WhatsApp & WeChat: +86 15093305912
Fish Feed and Pet Food Production Line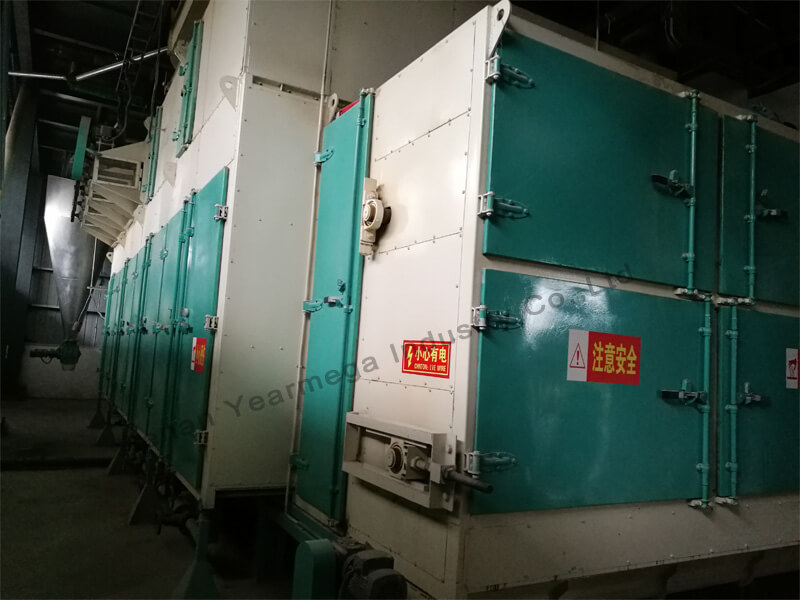 Auto dosing 3-6T/H Floating fish feed pet food line
Material : grains, fish meal, soybean meal, corn flour, oil, antibiotics, vitamins, etc.
Machines : auto dosing, mixer, grinder, ultrafine pulverizer, extruder, dryer, flavor machine, etc.
Capacity : 1-6t/h
Guarantee : 1 year
Application : floating & sinking fish feed production and pet feed pellet production
SEND INQUIRY
Description
Definition of Aqua Extruding Feed:



Producing extruding feeds by extrusion technology has become a trend of aquatic feed processing technology. The unique function of extruder machine is to change the weight of feed, to make floating, slow-sinking and sinking extruded fish feed. The floating fish feed not only can improve feed efficiency, but the important thing is that the fish farmers can see the situation of fish eating, which can avoid overfed and reduce feed waste. And also extruded feed is not easy to dissolve in water thus it can protect water quality and It also has great significance in environmental protection.

Raw Materials:

The main raw materials of floating fish feed contain grains, fish meal, soybean meal, corn flour, bread meal, rice bran, blood meal, oil, antibiotics, vitamins, etc.

Introduction of Main Process:
The features of extruding fish feeds are that the crush fineness is small (about 60-200 mesh), the curing degree is high, with high oil content, high protein content, the diameter size of finish pellets is large (about 0.6-20mm).
Capacity: 3-6T/H.
The aqua feed mill plant has compact design, reasonable structure and meets the requirement of environmental protection. It can be customized according to customer's requirements.

Flow Diagram of Process:
Raw Material Receiving & Pre-cleaning process---Auto Material Dosing & Mixing System----Grinding Process & Ultrafine Pulverizing System----Second Mixing System----Extruding System & Drying ---- Cooling, Oil Coating & Bagging System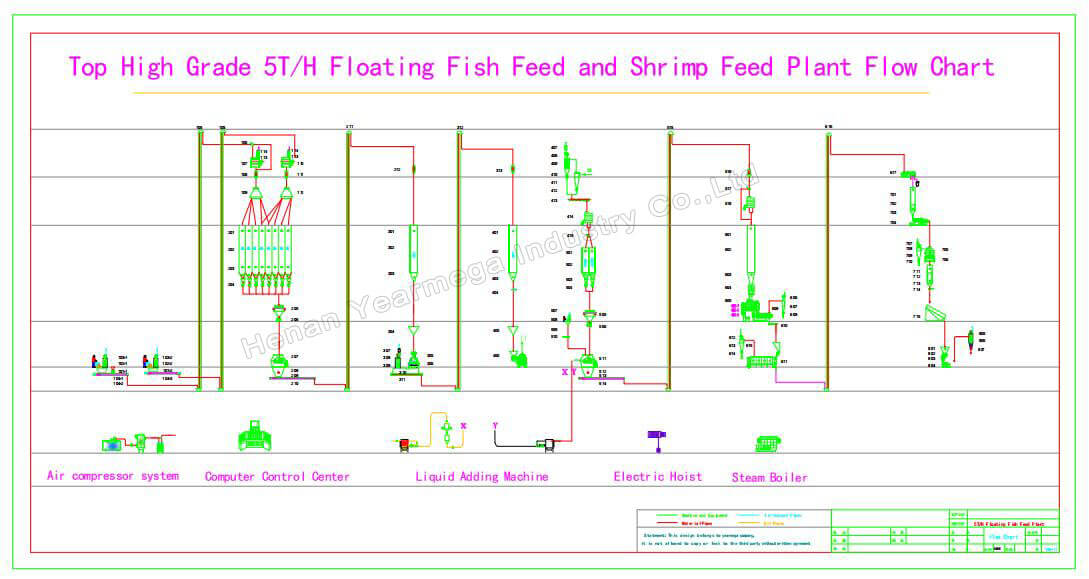 1. Raw materials Receiving & Pre-cleaning System:


The usage of cleaning system is removing the raw materials' impurities, such as rope, clod, corn cob etc. non-magnetic impurities and iron nail magnetic impurities. It can ensure the quality of products and the safety of the subsequent processing equipment.



2. Automatic Material Dosing & Mixing System


For small or medium aqua feed factories, the user will prepare ingredients according to the feed formula by manual proportioning, as it needs small investment for the equipment, well for medium or large scale aqua feed factories, the user will prefer automatic material dosing system, which can do the material proportioning automatically controlled by computer. It saves much labors work, and high efficient, more precise proportioning of the feed formula. After auto material dosing, the material will drop to mixer, mixing the material thoroughly can ensure extruding efficiency and improve the feed quality.



3. Grinding and Ultrafine Pulverizing System


The usage of grinding system is increasing the specific surface area of feed which is good for animal digestion and absorption and improving the processing performance of raw materials. First grinder for coarse grinding, Due to the development of aqua feeds and other special feeds, required a finer grinding particle size and the normally grinding particle size needed is about 80-200 mesh. However, the normal hammer mill cannot meet this requirement, then the vertical pulverizer was designed. The floating aqua feed mill plant use one set vertical pulverizer, which adopts air-transport discharge, matched cyclone, pulse filter. The grinding fineness can be revised according to customer's requirements.




4. Extruding Process--- Floating fish feed pellet extruder


We have different kinds of fish feed extruder, dry type fish feed pellet machine and steam type feed pellet machine. The steam type is equipped with the conditioner and need to equip the steam boiler. The dry type fish feed extruder is cheaper while the capacity of the wet type fish feed extruder is higher, so usually the wet type fish feed extruder is suitable for large feed pellet factory and the dry type fish feed extruder is better and economic for the small and medium size user or factory. We also have single screw extruder and twin screw extruder, single screw type is for small and medium aqua feed plant, while double screw extruder is for medium and large scale aqua feed plant. Some factories also produce aqua feed by feed pelletizer, high efficient, and lower cost.



5. Feed Pellets drying---feed pellet drying machine


Our mesh belt dryer is a continuous convective belt dryer. Pellets formed through the extruder are stacked in layers on a wire mesh belt conveyor and conveyed continuously through drying chambers. During this process, the drying air is passed repeatedly through the products layer until pellets have the optimum moisture content before leaving the dryer. While if you choose wet type fish feed machine, we recommend the steam heating type feed pellet dryer which can save electricity consumption cost. We have economic type wire mesh belt dryer and advanced type dryer, and heating source are divided into two types, electric type and steam type.



6. Feed pellets cooling, oil spraying, sieving process


After drying, the feed pellets will go to cooler, to remove the heat and moisture. Then oil coating machine/oil sprayer will add oil or additives to the surface of the feed pellets. Three types of oil coater includes economic double drums or single drums oil coating machine, advanced full automatic rotary oil sprayer and vacuum type oil sprayer for your choice. Sieving machine will remove flour and get perfect feed pellets finally.



6. Pellet packing---electronic packing machine


To make the finished pellets easy to store, transport, they should be packed properly. With our electronic weighing and packing machine, the finished feed pellets can be packed into bags, weighed, conveyed, and sealed automatically, which saves labor and time greatly and meet the requirements of large scale production. For this packing machine, automatic bag sewing and automatic thread cutting can be optional functions.
1-3T/H floating fish feed and shrimp feed plant flow chart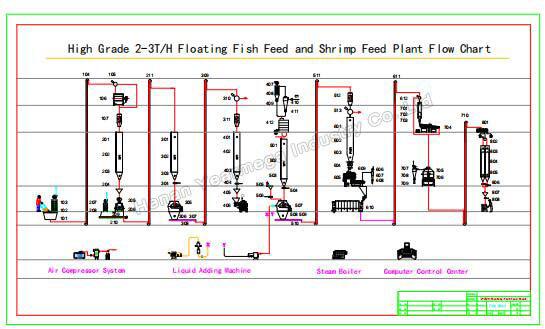 3-6T/H floating fish feed and shrimp feed plant flow chart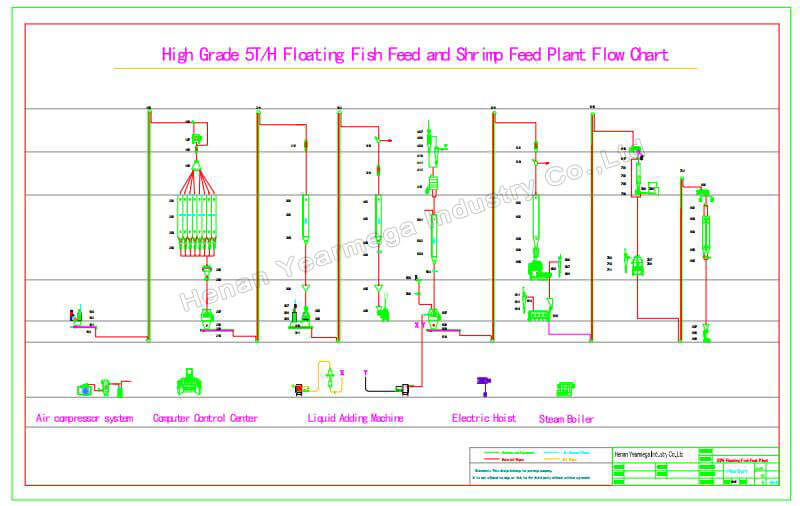 Leave a message: Please fill in your information and we will contact you soon.