Products Catalogue
HOT SALE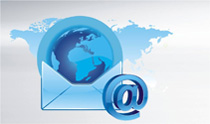 Email: carla@hnyearmega.com

Tel: +86 15093305912

Skype: zzhrsdcarlar

WhatsApp & WeChat: +86 15093305912
Fish Feed Extruder/Pet Food Extruder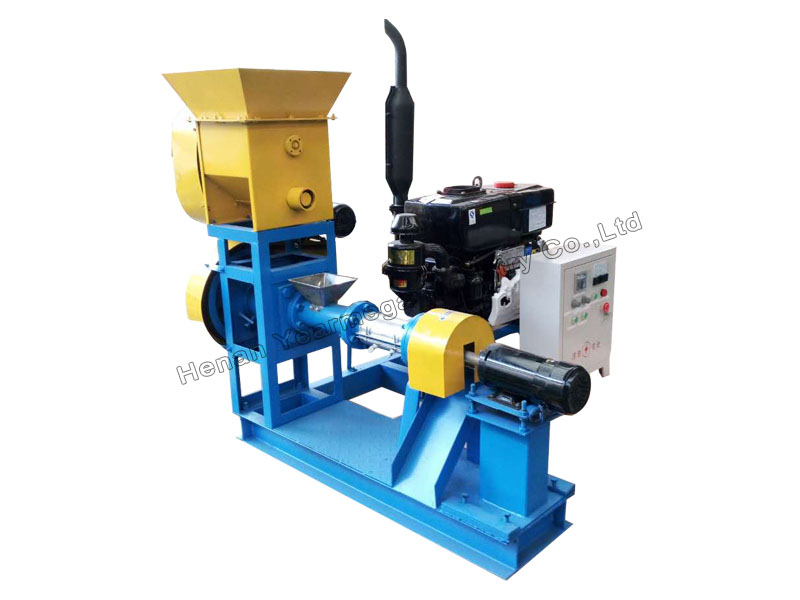 Diesel Engine Floating Fish Feed Extruder
Power : 12-50kw
Capacity : 30-400kg/h
Pellet Size : 0.9-15 mm
Gurantee : 1 year
Application : precious fish feed, aquarium fishfeed, crevalle fish feed, shrimps, pet food
SEND INQUIRY
Description
Diesel Engine Type Fish Feed Extruder Machine Introduction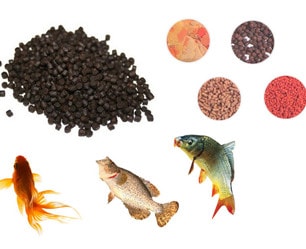 Dry type fish feed extruder, also called fish feed pellet machine, is widely used for processing various materials into high-grade aquatic feed pellets for fish, catfish, shrimp, crab, lobsters,pets, etc. Our fish feed machine can produce floating fish and sinking fish feed. Moreover, you can change extrusion degree to influence floating time. Without requiring steam boiler and with advanced single screw extruder, it is a primary choice of small and medium size feed processing plants and aqua farms. We have electric type and diesel engine type for your choice.

Working Principle of Diesel Engine Type Fish Feed Pellet Machine

The fish feed extruder is composed of diesel engine, feeding system, extruding system, cutting system and controlling system.
The specific process is: preheating(heating band of fish feed extruder)→ripening(with high
temperature and pressure) →pellet making(die mould) →cutting (by high-speed cutter).

The main engine we use diesel engine instead of 3 phase electric motor.
Diesel engine type is suitable to use on fish farms or some feed mills where is no 3 phase electricity. This machine is suitable for small and medium aquatic farm or feed pellets processing factory.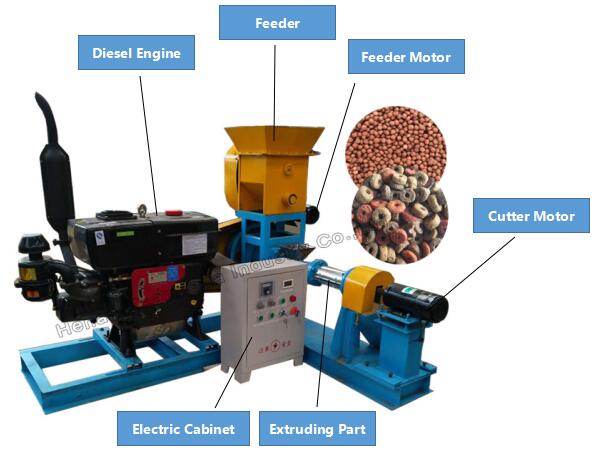 Leave a message: Please fill in your information and we will contact you soon.