Products Catalogue
HOT SALE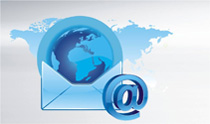 Email: carla@hnyearmega.com

Tel: +86 15093305912

Skype: zzhrsdcarlar

WhatsApp & WeChat: +86 15093305912
Biomass Briquette Machine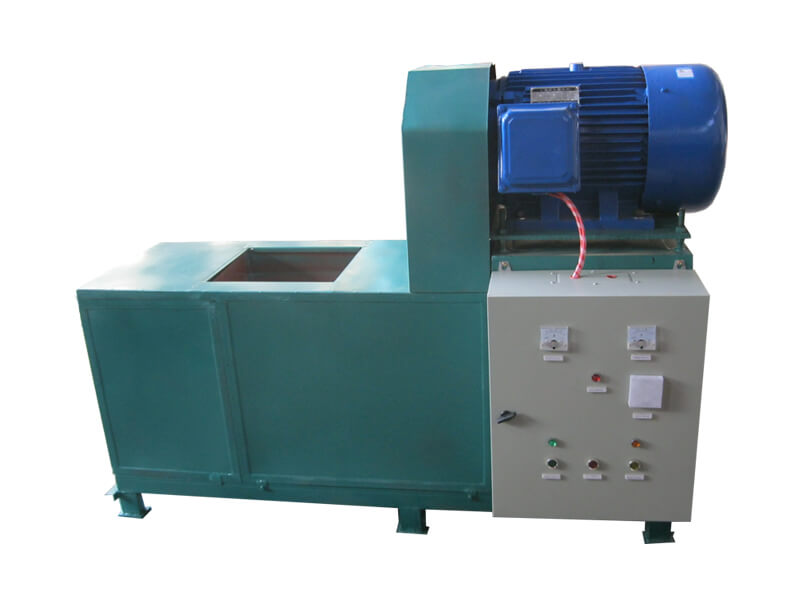 Charcoal Briquetting Plant
Material : Agro and forestry waste
Size : 50-80 mm
Machines : Wood crusher, pipe dryer, charcoal briquette machine, carbonization furnace
Guarantee : 1 year
Application : Charcoal briquetting of biomass material
SEND INQUIRY
Description
Charcoal Briquetting Plant Introduction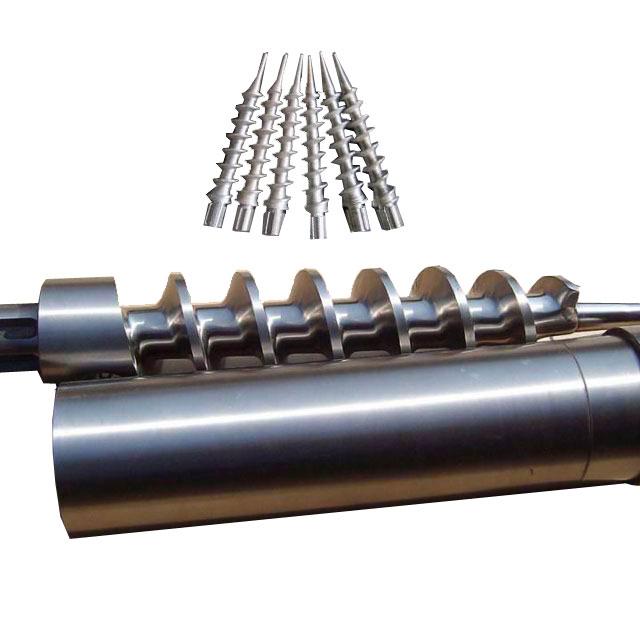 Charcoal briquetting plant is a highly automatic line to process various kinds of agro and forestry waste into bio-fuel hollow briquettes with diameters from 50 mm to 80 mm. According to your productivity, we can match for you.
A Wide Range of Raw Material
1. Raw material: sawdust, wood branches, wood residues, rice husk, peanut shell, corn stalk, bamboo, sunflower shell, cotton stalk, coconut shell, bagasse, corncob, leaves, etc
2. Raw material size: 3-5 mm
3. Raw material moisture: 8-12%

Charcoal Briquettes Production Flowchart
The process is: Crushing-Drying-Briquette making-Carbonizing-Packaging

1. Crushing- Wood Crusher/ Hammer Mill
During crushing process, we can match wood crusher or hammer mill for you according to your raw material. Generally speaking, we recommend wood crusher for raw material of 50-200 mm(diameter) and hammer mill for those below 50 mm(diameter).
2. Drying-Pipe dryer/ Rotary Drum Dryer
For raw materials with high moisture content of above 12%, a drier is necessary to install. According to your productivity, we have two kinds of dryer machine for you to choose from, that is, pipe dryer and rotary drum dryer.
Tip: Finishing this step, we need make sure that the processed materials diameter must be at 3-5 mm and the raw materials moisture is within 8-12%.
3. Briquette making- Briquette machine
It is a process that biomass is compressed under high pressure and high temperature. We need no binder added as the lignin in plant can serve as the glue in briquetting process.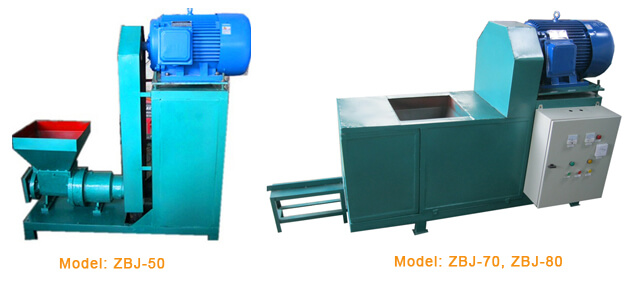 Model

ZBJ-50

ZBJ-70

ZBJ-80

Main
motor
power(kw)

15-18.5

18.5-22

18.5-22

Weight(kg)

600

700

750

Capacity
(kg/h)

160-320

250-400

250-400

Overall
dimension(m)

1.5*0.6*1.6

1.6*1.6*1.7

1.85*0.65*1.3

Final product
diameter( mm)

50

70

80
4. Carbonization- Carbonization Furnace
This process makes the wood briquette into charcoal briquette which is popular among BBQ lovers. Our furnace is of rational structure and only needs small heat consumption. The carbonized charcoal briquettes are high qualified and have longer burning time.


Working Video of Briquetting Machine
Leave a message: Please fill in your information and we will contact you soon.